Entrepreneur Coaching
EDN Coaching Approach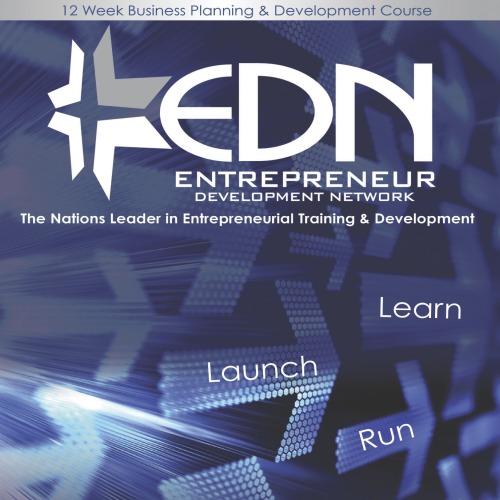 The Entrepreneur Development Network (EDN) is global business development and leadership-training corporation providing quality business planning and development processes to small and minority owned businesses. EDN's successful models include interactive instructor led entrepreneurial training and coaching which guides in planning, writing and launching their business vision.
The EDN Coaching model for business development is LEARN, LAUNCH, RUN, and GROW. Each of these critical areas builds upon the other, resulting in many EDN success stories. LEARN – Learning occurs when knowledge is transferred and retained. Through the EDN curricula participants LEARN the steps necessary to successfully LAUNCH their business ventures and hit the ground running. Continual learning is fundamental to any thriving enterprise.
Marketplace and technological changes demand that entrepreneurs consistently seek informed and ahead of trends. LAUNCH With the application of EDN strategies identified in the planning process, graduates are prepared to LAUNCH their business ventures with the education, tools, and resources to become a leader in their industries and dominate in the market place. RUN – EDN is concerned about the large percentage of entrepreneurs that close their doors shortly after opening the business. They learn the harsh reality that running a business involves far more than the production of goods and/or services.
Our training, coaching and mentoring in key areas such as: developing strong business infrastructures and effective operating systems are fundamental to the successful implementation of the business plan. GROW Growth occurs when profitability and revenue increases . The EDN network of corporations, lenders, suppliers, and industry experts provide access to resources that assist our graduates in continually growing their businesses .
The Entrepreneur Coaching Process
It has been said, "Success is where Opportunity Meets Preparation". So what does it take to be prepared for those opportunities? What does Success look like? How is it measured? The process outlined in the Entrepreneur Coaching overview will prompt you to answer these questions and guide you through the preparation process.
Training combined with coaching increases productivity by an average of 86% vs. 22% with training alone. The demand for coaching has grown. It will continue to rise. As coaching takes hold, it changes corporate cultures: the way people relate, behave and interact inside businesses, organizations, governments, and schools. One on One coaching has given birth to group or team coaching for managers and executives. The entrepreneur coaching guides you through the business planning process.
Entrepreneur Coaching takes business leaders step by step through the business planning process. A working Business Plan is a written description of a business venture. Business plans detail the management, marketing, operations, financials, and future of a company. The process of developing a thorough Business Plan will transition an idea into a clear and concise document that organizes your business infrastructure. Your Business Plan should clearly spell out how you intend to LAUNCH your idea, describe how the business will RUN, and identify opportunities to GROW the business.
Why Coach from a Business Plan?
Will your business idea enable you to reach your goals? The single most important reason to coach from a Business Plan is to determine if your business idea is viable. In doing so your initial idea may be changed or tweaked to ensure that it will reach buying customers. Additional benefits of writing a comprehensive Business Plan include but are not limited to the following:
Identify business expenses

Create detailed financial projection

Maximize business operation and performance

Assess viability and potential profitability

Identify business strengths and weaknesses

Increase the probability of success

Provide a snapshot of the business as a whole

Define your goals and objectives

Avoid common mistakes

Document your vision
How is a Business Plan Used?
Some may think a Business Plan is primarily a tool to obtain funding, financial support or partnerships. While a clear, concise, well-organized plan is fundamental to acquiring funding, Coach and Trainer Alena Edmondson strongly encourages entrepreneurs to consider their Business Plan to be a working document. The success of a business goes far beyond the funding process. Your Business Plan should be referenced, followed, and modified regularly as follows.
Reference the Plan
Documenting everything necessary to successfully LAUNCH, RUN, and GROW a business is fundamental to business success. A good Business Plan should contain resources and data concerning every area of business operation. It is occasionally necessary to reference the instruction manual for an appliance or electronic device in order to ensure that it functions properly. Even medical doctors refer to a physicians desk references to assist in diagnosing or treating a patient's condition. Mechanics often follow the manufacture's instructions as a tool for diagnosis, performing routine maintenance, and making repairs. The diagnosis, maintenance and repairs all ensure maximum performance. As such an entrepreneur should routinely reference their business plan to maximize business operation and performance.
Follow the Plan
A Business Plan should define the goals, and objectives of the company and thus provides a reliable method of performance measurement. By following the operations of the business as outlined in a Business Plan, you can assess progress and whether or not the business is on track for meeting business goals and objectives. If the plan is not followed it is very difficult to determine what works and what doesn't. Following your plan as documented assists you in identifying opportunities to improve business operations.
Modify the Plan
As opportunities to improve business performance present themselves and as changes are made to business operations, your Business Plan should be updated accordingly. As goals are met or exceeded, new goals should be set and documented. Your Business Plan should be a continual snapshot of how business is done. It should include measurable goals and objectives that are periodically assessed and occasionally modified.
What's in the Business Plan?
Business development organizations and experts may tend to group the sections of a standard Business Plan differently. While the order in which the information is presented may vary, the basic components are the same. The components of a standard business plan include an Executive Summary, an overview of Management, a description of Products or Services, an overview of Marketing Strategies, Operational data, and Financial Data.